Win a permit fishing trip to the world's #1 permit lodge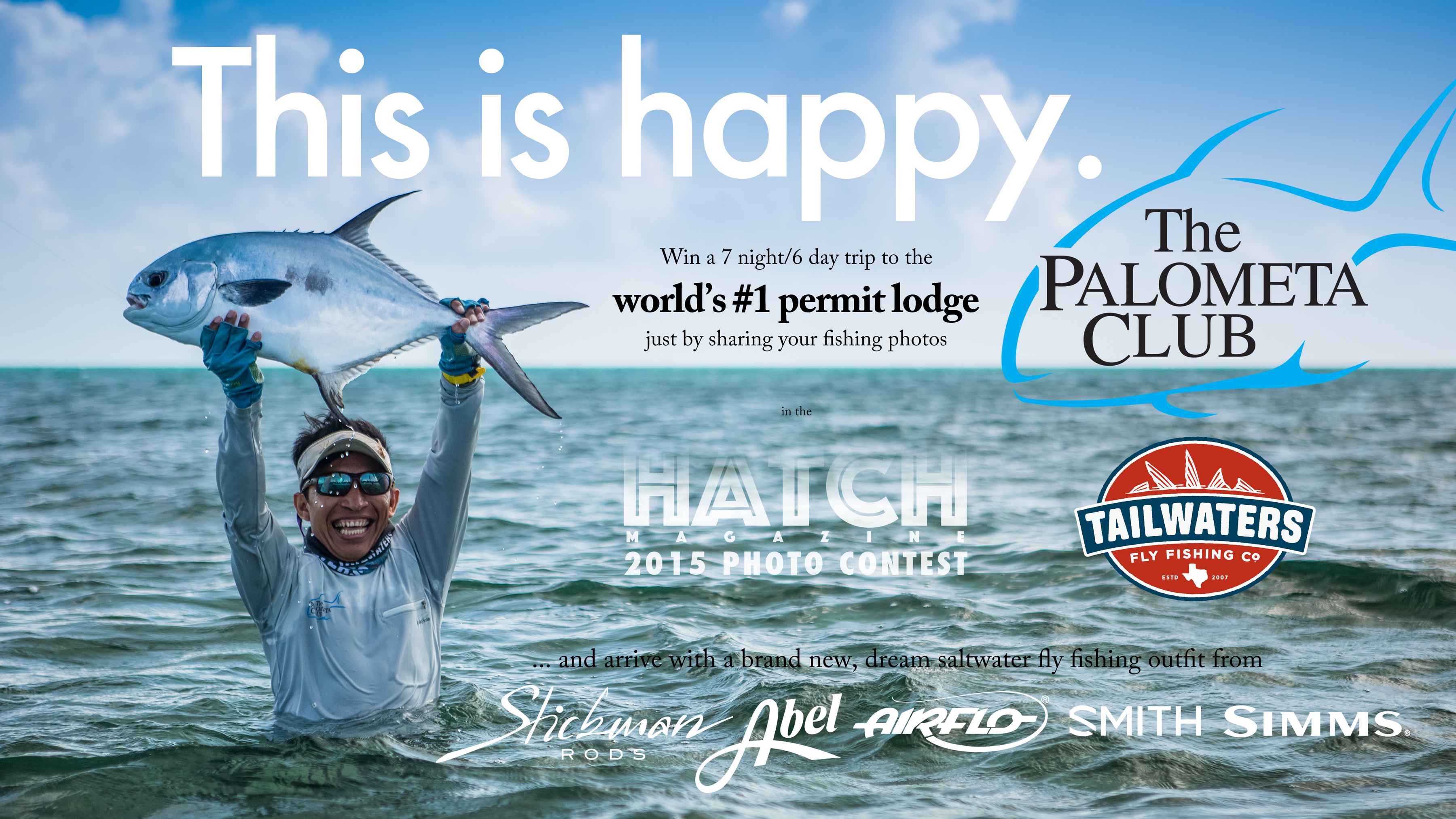 We've been kicking off our photo contests the last few years by saying something to the effect of "it's back ... and bigger than ever." Unfortunately, at the risk of sounding unoriginal, we're forced to again make the same claims. This year, we're taking the grand prize winner with us on our hosted trip to The Palometa Club in search of permit. As if that weren't enough, the grand prize winner will also hit the flats of Ascension Bay with a brand new saltwater fly fishing outfit from Stickman Rods, Abel Reels, Airflo, Smith Optics and Simms.
And since we're going overboard, why stop there? This year's winners will be walking away with their share of over $10,000 in prizes. Let's have a look.
THE PRIZES

THE PALOMETA CLUB
Someone's going permit fishing. And not just anywhere. The Palometa Club has solidified itself as one of the world's premier permit fishing operations.
"If you want to catch a permit on the fly, there is no question that you stand a better chance here than any place I know." – Lefty Kreh
We're headed to back sleepy Punta Allen on Mexico's Ascension Bay in early 2016, February 5-12. This time, we're taking 10 anglers with us. One of those 10 will be this year's grand prize winner. That's pretty cool.
The Palometa Club built its reputation not only on its location -- which offers anglers shots at plentiful populations of permit, hordes of bonefish, baby tarpon, snook, jack crevalle, barracuda and more -- but on its obsessive permit culture which has turned bringing Ascension Bay's permit to the boat into more of a discipline than a pursuit. It is possible that no operation lands more permit than The Palometa Club, thanks in no small part to its 1:1 angler to guide ratio.
It's also a hell of a fine place to spend a week. Time not spent on the flats is spent oceanfront at the club, sipping margaritas, lounging in the hammocks, dining on excellently prepared traditional Mexican fare and enjoying the company of the other guests.
For more information on our hosted trip to The Palometa Club, head to the official trip page.
Travel accommodations are all deftly and expertly handled by the club's exclusive booking agent, Tailwaters Fly Fishing, who puts anglers in many of the world's finest fishing destinations.

STICKMAN RODS
Over the last year or so, we've been doing a lot of boasting about Stickman and the rods they're turning out. Their P5 may be the best trout rod on the market, and toting their T-8 to chase bonefish left us impressed by a rod that was able to handle the demands of the flats while still wowing us with its feel. Stickman Rods are a boutique shop that is building rods with a progressive design philosophy, technology and materials to match the biggest name brands in the industry and the handmade craftsmanship you'd expect from a custom rod maker.
So, we're pretty stoked that this year's grand prize winner will be taking Stickman's yet-to-be-released T-10 to The Palometa Club to chase permit. This year's runner up will be walking away with one of Stickman's amazing rods as well.

ABEL SUPER SERIES
There may be no other brand other than Abel in the world of fly fishing that satisfies both traditionalists in search of heritage craftsmanship and modern gear heads that praise performance above all. Abel manages to do both with ease. For years, Abel's cork disk drag system has provided immense stopping power with sometimes unbelievably smooth starts and stops that carbon disk drag reels simply can't match. For anglers that chase big, powerful fish like permit on light tippets, there may be no better fish fighting tool than Abel's Super Series.
Add in the fact that Abel's online Reel Builder Tool may be the most fun way to buy a new reel, and anglers looking for a premium reel are hard pressed to find a reason to shop elsewhere. This year's winners will use Abel's Reel Builder Tool to build their own custom reel including finishes from Abel's artist series, such as the tarpon finish seen above.

AIRFLO CHARD'S TROPICAL PUNCH
For years, Airflo has been making our favorite saltwater lines. The combination of Airflo's polyurethane construction -- which is unharmed by sunscreen, deet and other chemicals that are often in our boats but wreak havoc on most other fly lines -- and their Ridge construction which results in the ability to shoot surprisingly long lengths of line keeps us reaching for Airflo's lines in the salt. Airflo's newest addition to its saltwater lineup, Chard's Tropical Punch, was designed by flats guide and saltwater casting guru Bruce Chard. The Tropical Punch's aggressive, compact front taper and extended rear taper helps anglers load their rods quickly and shoot long casts even in adverse conditions.

SMITH CHROMAPOP
There's a reason that Smith keeps getting more mentions in our features highlighting the Best Fishing Sunglasses on the market: Smith keeps turning out impressively versatile eyewear with superior optics and performance.
Having high performing polarized eyewear is possibly more important on tropical flats than in any other fishing environment. On these shallow, sun-bleached, turtle-grass speckled fishing grounds, spotting fish swiftly moving and well camouflaged fish is half the battle. For the last couple of seasons, Smith's Polarized Blue Mirror ChromaPop lenses have been one of our goto pairs whether chasing permit on the flats of Ascension Bay, cruising tarpon in the shallows of the British Virgin Islands or bonefish on the coral-laden flats of Belize's Turneffe Atoll.

SIMMS SUN PROTECTION
Everyone who has their head screwed on straight is taking sun protection more seriously these days. Vanity has taken a backseat to good old common sense, and people are choosing long sleeves, long pants, hats with big brims and such over the specter of skin cancer. But who's to say that protecting your skin has to mean a painted-white nose and a dorky hat?
From shirts to hats to less traditional apparel like gloves, sungaiters and sun sleeves, Simms has been leading the charge in producing technical apparel that provides UPF rated sun protection while not only functioning the well, but looking good too.
THE BREAKDOWN
Grand Prize: A 6-day/7-night trip to The Palometa Club in Ascension Bay, Stickman Rods T-10 fly rod, Abel Super Series reel, Airflo Chard's Tropical Punch fly line, Smith ChromaPop Polarized Blue Mirror sunglasses, Simms Fishing sun protection apparel.
First Prize: Stickman Rods fly rod, Abel Super Series reel, Airflo Chard's Tropical Punch fly line, Smith ChromaPop Polarized Blue Mirror sunglasses, Simms Fishing sun protection apparel.
Second Prize Airflo Chard's Tropical Punch fly line, Smith ChromaPop Polarized Blue Mirror sunglasses, Simms Fishing sun protection apparel.
Third Prize: Airflo Chard's Tropical Punch fly line, Smith ChromaPop Polarized Blue Mirror sunglasses, Simms Fishing sun protection apparel.
Fourth Prize: Airflo Chard's Tropical Punch fly line, Smith ChromaPop Polarized Blue Mirror sunglasses.
As always, it doesn't get much simpler: send us your best fishing photos from this year. Share them with others via Facebook, Twitter and more. Hope to win.
Here are some guidelines/helpful tips on submitting a contest entry:
Anything fly fishing related goes. Photos of landscapes, gear, people, fish, etc. Don't limit yourself to grip and grin shots (seriously, please don't).
Submit your most creative shots. The judges are all seasoned fisherman and/or seasoned photographers. Think big.
Avoid watermarks, borders, faux matting and frames, or other urges to bedazzle or mark up your photo.
You can enter up to 5 photos (that's up from 3 in previous years) and swap them out throughout the year (if you ignore the limit and enter more than 5, we'll only look at your most recent 5).
If you win a prize, and possibly even if you don't, we are going to ask you to prove the image is yours. So, be prepared to. Don't steal or otherwise enter images that don't belong to you.
You need to be logged in to send us your contest photos. Clicking the ENTER NOW button below will prompt you to login if you're not already, and will present you with the option to register if you need to.
CONTEST CLOSED
CLICK TO SEE THE WINNERS
OFFICIAL TERMS AND CONDITIONS (FULL DETAILS)
NO PURCHASE NECESSARY TO ENTER OR WIN
ELIGIBILITY: The "2015 Hatch Magazine Fly Fishing Photo Contest" (Promotion) is open internationally to individuals age 18 or older. Do not participate in the Promotion if you are not 18 years of age at time of entry. Contest is void wherever prohibited by law.
TRAVEL PRIZE: The grand prize winner will receive a trip to The Palometa Club in Punta Allen, Mexico from February 5-12, 2016. What's included: (1) flight to Cancun (CUN) or a $400 VISA gift card for use towards purchasing air travel to Cancun if cost of travel from the grand prize winner's destination exceeds $400, all ground transportation once arriving in Cancun, lodging, meals and guiding are included. What's not included: any airfare or other travel expenses prior to arrival in Cancun (in excess of the $400 gift card), gratuities for The Palometa Club staff and any other incidental expenses.
OTHER PRIZES: Two (2) Stickman Rods fly rods, two (2) Abel Reels Super Series fly reels, five (5) pairs of Smith Optics' ChromaPop sunglasses, five (5) Airflo fly lines, four (4) Simms Fishing sun protection apparel packages.
HOW TO PLAY: Enter to win at https://www.hatchmag.com by following provided instructions to upload your favorite fishing photos. Each contestant may submit up to five (5) photos for inclusion in the contest.
PROMOTION PERIOD: From June 1, 2015 until Oct 31, 2015.
WINNER NOTIFICATIONS: Winning contestants will be posted on Hatch Magazine's web site. It is the responsibility of the contestants to monitor contest results and claim their prize via provided instructions. Prizes will be shipped via FedEx or USPS. Except where prohibited by law, winning constitutes permission to use winners' names, hometowns, likenesses, prize won and photographs for online posting, and/or any advertising and publicity without additional compensation. Winners must provide Hatch Magazine with their legal name, current mailing address, and photo upon request.
WINNER ELIGIBILITY: Winners may be asked to provide proof of ownership of images submitted for the contest. This may include, but is not limited to, RAW or other original files, full EXIF data, travel or other documentation, witness testimony or accompanying images.
WINNERS LIST: Winners will be posted within Hatch Magazine web site.
INVALID ENTRIES: Winners are only eligible to win one (1) prize via this Sweepstakes, duplicate winners within the same sweepstakes will be deemed invalid. Any entries deemed to be fraudulent by Hatch Magazine will be invalid. Employees, officers, editors, paid contributors (and their immediate family and household members (whether or not related) of Hatch Magazine, Inc. (the "Sponsor"), and its divisions, participating vendors, participating advertising and promotion agencies and affiliated entities not eligible to participate. In the event of sabotage, acts of God, terrorism or threats thereof, computer virus or other events or causes beyond the Sponsor's control, which corrupt the integrity, administration, security or proper operation of the Promotion, Sponsor reserves the right, in its sole discretion, to disqualify entrants and/or modify, cancel or suspend the Promotion.
RELEASE: By entering this promotion, participants agree, to the fullest extent permitted under applicable law, to release, discharge and hold harmless Hatch Magazine / Cignal Media LLC, their affiliates, their respective owners, and representatives from any and all damages, liabilities, costs and expenses which may arise out of participation in Promotion or out of the acceptance, use, or misuse of prizes. By submitting images for this promotion, you agree to release these images for use by Hatch Magazine / Cignal Media LLC for uses such as: current or future contest promotion, in Hatch Magazine newsletters, use on social media outlets such as (but not limited to) Facebook and Twitter, display anywhere on the Hatch Magazine web site. Image release does not provide Hatch Magazine / Cignal Media LLC the right to resell or relicense images entered in this contest. By participating, you agree to these Official Rules and to the decisions of the judges whose decisions shall be deemed final and binding. Sponsor reserves the right to substitute for any reason whatsoever a prize (or portion thereof) of comparable or greater value, at their sole discretion. Prize is awarded "as is" with no warranty or guarantee, either expressed or implied by the Sponsor. The Winners are responsible for the reporting and payment of all taxes (if any) as well as any other costs and expenses associated with acceptance and use of prize not specified herein as being awarded. Winner may be required to execute an affidavit of eligibility, liability release, tax acknowledgment form and, except where prohibited by law, a publicity release and return within five (5) business days of issuance of notification. Noncompliance within this time period or failure of potential winner to respond after three (3) notification attempts may result in disqualification. The Promotion Entities expressly disclaim any responsibility and entrants agree to indemnify and hold harmless Hatch Magazine / Cignal Media LLC from and against any and all claims, actions, demands and/or liability for injury, damage or loss whatsoever relating to or arising in connection with participation in this Promotion (regardless of the cause of such injury, damage or loss) and/or the delivery and/or subsequent use or misuse of any of the prizes awarded.