As a fly fishing writer, I always seem to end up with a boat load of new fly fishing gear to look at, and write about. Instead of following the traditional Hatch Magazine route and offering a detailed look at one particular rod or pair of waders, I wanted to share my impressions on the most notable products I've run across since last fall.
Orvis Hydros SL3 Reel ($219) - The new Hydros SL reel from Orvis has been making waves with a fair number of anglers. With extremely fast line pickup, a sealed drag and a sleek, modern design, the Hydros matches form to function in a solid, attractive package. I fished the Hydros 3, which is designed to handle 5 to 7 weight lines, and I was awfully impressed. The drag was smooth and powerful, the fit and finish were excellent, the start-up inertia was minimal, and the reel functioned exactly the way it's supposed to under some extremely challenging cold weather conditions. Bottom line, the Hydros is worth a long, hard look if you're in the market for a well-designed and well-executed new reel.
St. Croix Mojo 7-weight Bass Rod ($150) - St. Croix created a fair amount of buzz last summer when they debuted their new Mojo series of bass-specific fly rods to widespread acclaim. While I didn't have a chance to chase bass with the 7-weight Mojo, I did fish the rod with a big, cone-head streamer that's very similar in size, weight and function to your typical bass bug. The verdict? The Mojo is a nice, accurate, easy-to-cast rod that will put your fly on a dime. It has plenty of backbone to keep a largemouth out of the lily pads or an oversized smallmouth out of the boulders. Even better, the $150 price tag won't break the bank. I'm looking forward to getting the Mojo out on a local bass pond, as I'm betting it will be an ideal rod for working a popper along surface structure.
Costa Motu Sunglasses ($169) - You probably already know that Costa makes great sunglasses. Well, the new "Motu" style is no exception. The frames are attractive and comfortable, the 580 plastic lenses are lightweight with excellent optical quality, and the Motu features the 100% polarization and 100% UV blockage that you expect from top-of-the-line glasses. Most importantly, when I put on these Costa glasses, my visual acuity improves and my eyes feel 20 years younger. You can't go wrong with these guys - especially since every pair from Costa comes with a lifetime warranty.

Sage 590-4 MOD Rod ($850) - It used to be hard to find a great trout rod. Not anymore. And yes, in case you're wondering, the new MOD is a great trout rod. It's smooth, it's precise, it loads easily at short distances and yet it still booms out a cast to the far bank. I fished dry flies, nymphs, and streamers with a 5-weight MOD, and it handled them all with aplomb. The rod truly shines with small dry flies, where it throws graceful, effortless loops all day long. I literally loved fishing this rod. If there's a downside, it's that it's a little flashy for my taste, with Sage's bright "jade" blank color guaranteed to stand out in a crowd. Other than that one small detail, though, the MOD grades out at an A+.
Patagonia Rio Gallegos Zip-Front Waders ($599) - Patagonia recently released an updated version of their Rio Gallegos waders. Since the originals were my all-time favorites, I was a little nervous about this particular news. After all, it's hard to improve on "the best." So what's different? Well, Patagonia replaced the merino wool-lined neoprene feet with a poly-grid lining, they increased the articulation, they made the waders a little more form-fitting, they improved the belt loop design, tweaked the pockets, added more internal storage and made it easier to attach nippers or forceps to the suspenders. In my mind, the jury is still out on whether the poly-grid lining is an improvement on the merino wool, and I'll need to drop 5 pounds for the waders to fit me as perfectly as the previous model. Other than that, the various modifications all count as minor improvements to what was already exceptional an exceptional product. If you need new waders, you should definitely consider the updated Rio Gallegos Zip-Front.
YETI 20 oz. Rambler Tumbler ($29.99) - Yeti makes superior quality, over-engineered coolers and drinkware for hardcore outdoorsmen, and the 20 oz. Rambler is a perfect example. This stainless steel tumbler comes with double-walled vacuum insulation that will keep your cold drinks cold, or your hot drinks hot, for an unbelievably long time. In fact, I threw a tea bag and some boiling water in a Rambler at Damdochax River Lodge last fall, caught a helicopter ride down to the Nass River, loaded up into a raft, started to float downstream - and then almost burned my lip when I took a drink. These big stainless tumblers come with a clear plastic lid, and they're dishwasher safe. I love them. I'm guessing you will too.

Redington 490-4 Hydrogen Rod ($299.95) - I'm of two minds about Redington's new Hydrogen rod. On one hand, there's no wood insert for the reel seat, so your reel foot literally floats in the middle. The cosmetics are a ways from industry-best. The guides are a touch small for my taste, to the point where a bulky line/leader connection may have a hard time getting through. (I suspect that Redington was trying to keep the weight down to a bare minimum, but they may have taken things just a touch too far - at least from where I sit.) On the other hand, though, this 9' 4-weight casts like a dream. Seriously, this is one of the finest casting rods I've ever fished, at a price that's $500 less than a lot of its closest competition. I was - and am - blown away by how well this rod performs. So if you're the kind of person who admires incredible craftsmanship and traditional styling, you may want to look elsewhere. But if you're looking for an outstanding fishing and casting experience, then the Hydrogen deserves your serious consideration.
Fishpond Thunderhead Sling ($199.95) - If you spend much time on the water, you've probably noticed that slings are replacing vests and backpacks as the "go to" choice for most anglers. The new Thunderhead sling, from Fishpond, is a great option if you're looking for a bomber, waterproof sling that will carry your flies, leaders, tippets, a water bottle and maybe even a packable jacket. There are plenty of tabs and cord loops to attach nippers, forceps, floatant, etc. on the exterior, along with interior and exterior zippered pockets and a slot to hold a big net. The Thunderhead is made from recycled fabric, and it features the kind of high quality construction and attention to detail we've come to expect from Fishpond. One last thing. For maximum efficiency, you might want to add the exterior water bottle holder and tippet holder, which Fishpond sells separately.
RIO LightLine WF-5-F Fly Line ($74.95) - One of these days I'm going to write a story about the fact that a 5-weight fly line is not really a 5-weight fly line; at least not anymore. In the meantime, keep in mind that RIO's superb new LightLine fly line is manufactured specifically for bamboo, fiberglass and slower action graphite fly rods, and that it's "built to precisely match the industry line standards." In other words, this is a real 5-weight line, rather than a 5.5 or 6-weight line masquerading as a 5-weight. The fact that it casts beautifully, floats like a champ and mends with ease are simply icing on the cake. My only reservation with this line is that it doesn't seem to work well in frigid conditions. If you're going to be fishing where air or water temperatures are consistently below 35 degrees, you might notice that the coils stiffen up and develop a little memory. Other than that one issue, this is a sweetheart of a new line.
Big Agnes Mystic UL 15 Sleeping Bag ($499.95) - I was packing my gear to film a steelhead movie last fall when I learned that I needed to bring along a sleeping bag. I have a couple, but they were way too big and heavy to squeeze into my luggage. Consequently, I asked around for recommendations and ended up with a Mystic UL 15 down bag from Big Agnes. I could not be happier. The bag is super light, it packs down to a third of the space of my older models, and it's incredibly warm & comfortable. If you're heading to Alaska or Canada for a backcountry trip, I literally can't imagine a better traveling companion. The Mystic UL 15 sleeping bag from Big Agnes, with water repellant down insulation, is a true gem.
Thomas & Thomas Aeros 904-4 Rod ($795) - T&T says their new Aeros rod is a "Medium+ Action for exquisite dry fly presentations" and that it's designed to turn over "long, fine leaders with accuracy and finesse." I'm not usually much for marketing hype, but this gorgeous 9', 4-weight from Thomas & Thomas performs exactly as advertised. This is a wonderful dry fly rod for larger streams and rivers, and it excels at placing small to medium-sized mayfly and caddis imitations in front of rising trout. There may indeed be a nicer dry fly rod around, but if so, I haven't run across it. The Aeros boasts exceptional cosmetics, impeccable fit & finish, and it's as enjoyable a rod to fish as you're likely to find. If you're heading for the Beaverkill or the Henry's Fork and you need a new rod, this particular T&T model deserves a long, hard look.
Montana Fly Co. Small Waterproof Fly Box ($12.99) - Fly boxes have come a long way over the last 20 or 30 years. This clear, double-sided box holds a couple hundred small flies securely via little foam slits, it opens and closes easily, and is indeed waterproof. (I loaded it with flies, dropped it in water, set the timer for 10 minutes, and then, just before I pulled it back out, I submerged it completely. Everything stayed safe, secure and bone-dry.) This is a great box for small dry flies, or small and medium-sized nymphs, and the fact that it floats is a huge bonus for those of us who've been known to drop the occasional fly box in the river.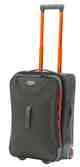 Simms Bounty Hunter Carry-On Roller ($299.95) - A good carry-on bag is an essential part of the traveling angler's arsenal. The new Bounty Hunter carry-on, from Simms, isn't just good. It's stellar. The bag is rock solid and extremely well-designed, with a beefy telescoping handle, serious wheels that roll easily over rock and dirt, and a weatherproof fabric that handled Montana sleet and snow with no issues at all. I tend to fly with a laptop, so the integrated laptop sleeve was a major bonus, as was the clam-shell design that keeps items separated and organized. All in all, this is a great bag for folks who take their travel seriously.
Orvis Helios 2 8-weight 10' Fly Rod—Tip Flex ($850) - Here's something not too many people know. 8-weights make me nervous. In my mind, it's hard to find an 8-weight rod that stands up to the challenge of big fish and big flies, yet still casts beautifully, with just the right amount of touch & feel. Thankfully, the H2 10' 8-weight throws an absolutely gorgeous line while still showcasing the requisite backbone to fight oversized salmon and incredibly hot steelhead. In fact, this H2 may just be the finest single-handed steelhead rod around. I fished one last fall while we were filming in British Columbia, and I couldn't help but fall in love. If you're considering heading to Alaska for silvers, or British Columbia for steelhead, the Orvis H2 is a fantastic choice.

Patagonia Sunshade Technical Hoody ($79) - This sweet Patagonia hoody is lightweight and comfortable, and it will keep the sun off your skin while you're stalking a flat for bonefish or drifting down the South Fork of the Snake looking for rising trout. What really caught my eye, though - and what elevates this particular hoody into the realm of 'epic' - is one of the colors. Patagonia calls it: "Waterway: Lite Distilled Green." I call it incredibly nice underwater camouflage. In an age when fish are getting spookier and spookier, and when it's often hard to get close enough for an accurate cast, having clothing that blends into the background is at an all-time premium. When you have a second, be sure to check out Patagonia's new "Waterway" camo pattern. We need every advantage we can possibly get.
Sage Click 4/5/6 Reel ($299) - The striking new, large-arbor Sage Click is a study in well-executed minimalism. Rather than offering a technologically-advanced drag system, the reel relies on an adjustable click & pawl drag to prevent free-spooling, while an exposed palming rim puts maximum control in the angler's hands. The Click is machined from 6061-T6 aerospace grade aluminum for strength & stability, and it's incredibly light weight for a large arbor design. This particular Sage should really appeal to anglers who prefer a beautifully-sculpted and designed fly reel. If you're in the market, but sure to check out the Click.
Simms Waypoints Sling Pack Large ($129.95) - This is the sling pack for folks who want to carry everything but the kitchen sink when they're out on the water. The large Waypoints sling features tons of space, along with exceptional flexibility, in a well-executed, lightweight, and thoughtfully-designed pack. There's a fold-out work space, exterior compression straps for a jacket, a sunglass pocket, and even a magnetic tool slot for your forceps. Seriously, if you can't fit your flies and other gear in this Simm sling pack, you need to start cutting back on how much stuff you carry. The new Waypoints, from Simms, is one heck of a nice sling pack.

Avex 3Sixty Pour ($29.99) - In a world where versatility is key, the Avex 3Sixty Pour does serious double duty. If you're out on the water on a hot day, this vacuum-insulated stainless steel bottle will keep your water nice and cold regardless of how much you hike or sweat. And if you're wading a river with snow on the banks, no worries at all. The 3Sixty Pour will help your coffee stay hot for hours and hours. Long story short, this is a great little bottle - easy to hold, a no-slip bottom, an omni-direction spout, an insulated cup, high quality materials and build … what's not to love?