Win a 6 day fly fishing tour of the Everglades and the Florida Keys, a new Sage X fly rod and more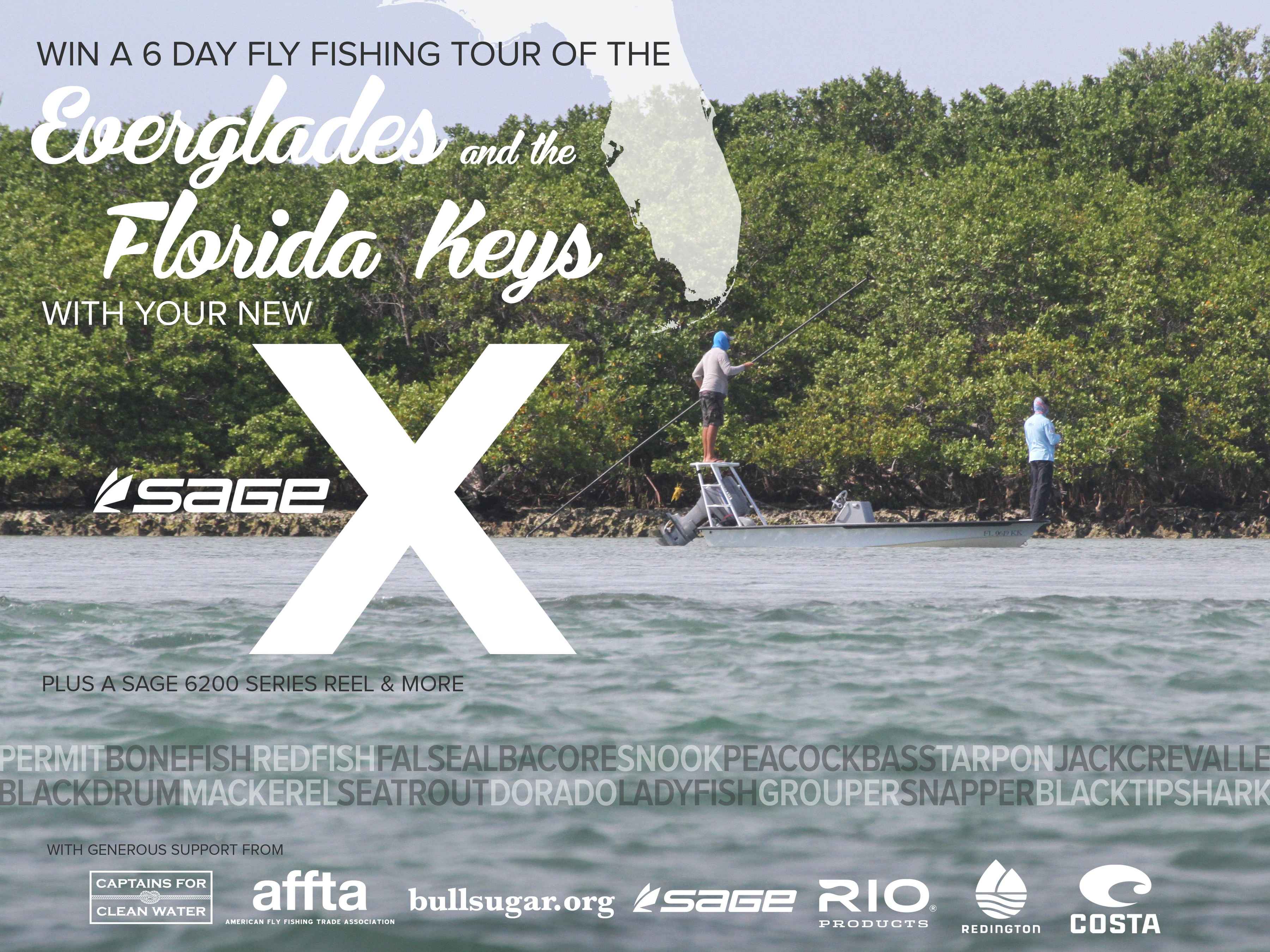 For the second year in a row, we get to enjoy the privilege of sending this year's photo contest winner off to one of the fishiest places on earth. This time it is the Everglades and Florida Keys, which together form one of America's most iconic fisheries and, as a World Biosphere Reserve, have been recognized as one of the planet's most unique and valuable ecosystems. The Everglades is also the cornerstone of south Florida's economy, and is a source of drinking water for 8 million people.
This year's grand prize winner will spend 6 days touring and fly fishing the Everglades. Thanks to staggering species diversity, glades and keys anglers can target everything from bonefish, tarpon, permit, redfish and snook to black drum, blacktip shark, false albacore and peacock bass.
And if a chance to explore the Everglades and the Florida Keys with some of the region's best guides isn't enough, the winner will head down with a brand new fly fishing outfit featuring a new Sage X fly rod, Sage 6200 series reel and more. The X, just announced by Sage, is the tenth flagship fly rod from the iconic Bainbridge Island rod maker and the product of years of development by long time Sage rod designer Jerry Siem and Sage's materials engineers.
THE PRIZES

IT'S #NOWORNEVERGLADES
The Everglades and Florida Keys remain to this day one of the most vibrant and diverse fisheries on the planet. We've spent years introducing you to glades fishing, such as snook fishing near Chokoloskee and chasing redfish, black drum, sharks, jack crevalle and tarpon near Alligator Alley and Flamingo.
But, for decades, the Everglades has been facing some serious challenges. And those challenges are mounting. In many places, fishing is a shadow of what it formerly was. In others, it's virtually non-existent.

The reason is well understood: Florida's antiquated water management practices —designed to support a failing sugar industry propped up by U.S. taxpayer-fueled subsidies estimated at around 3.5 billion dollars per year — have long starved the Everglades River of Grass of freshwater that naturally drains through the glades and south into Florida Bay. These vastly reduced or eliminated flows of freshwater create hypersalinity and nutrient deficient waters. Sea grass die off and habitat destruction are further fueled by polluted by polluted water discharges to both coasts via the St. Lucie and Caloosahatchee rivers that prevent the dammed Lake Okeechobee from overflowing, sparking spectacular toxic algae blooms that close beaches, destroy fisheries and become the subject of national news coverage.
As noted, the solutions to the problems facing the Everglades are well understood. Last year, more than 200 Everglades scientists signed a petition supporting a restoration plan for the glades and urging Florida lawmakers to take action.
It's time to do something. It's time to speak up. Learn more here. And here. And here.
Most importantly, sign the #NowOrNeverglades declaration. Make your voice heard.

THE SAGE X
Sage's flagship rod models — think RPL, Z-Axis and ONE — thanks to Sage's dedication to innovation and quality, consistently represent the pinnacle of rod making. Sage's new X, so named because it represents Sage's tenth flagship rod in almost 4 decades of rodmaking, is the latest representation of that dedication. Built on Sage's proprietary KonneticHD material, a higher density (HD) fiber composite, the Sage X is a rod that designer Jerry Siem says is "lighter, stronger, [with] unmatched recovery, energy transfer, and line/loop control."
It's a rod that walked away with wins in three categories at this years IFTD (International Fly Tackle Dealer) show —Best Freshwater Rod, Best Saltwater Rod and Best of Show — something no rod has ever done before.
And now it's yours. If you win, that is.

SAGE 6200
Sage quietly makes some of the best reels in the world. For years, we've fished Sage's reels alongside some of the industry's most heralded premium, big game reels. Guess which ones have never quit on us?
The 6200 series should likely be seen as Sage's latest and greatest, build to the same standards of exacting quality and performance as many of its other reels. We sat with Sage's VP of product development, Kurt VanWyck, earlier this year at the company's Bainbridge Island headquarters, while Van Wyck dug deep into the technical aspects of the 6200 series' design as well as the iterations of changes Sage went through with the reel's mechanics to insure that they got everything just right.
"This is our pinnacle big game and saltwater reel," says VanWyck. "We spent time in the lab and out in the field testing this reel in grueling conditions to ensure anglers who chase big fish all over the world have the toughest reel with the best drag package available."

REDINGTON HYDROGEN
The Hydrogen has surprised a lot of anglers. It's not that Redington hasn't been making killer value rods for many years now, it's just that they may not have ever made one that is this good.
In writing up the rod, our Todd Tanner noted that the Hydrogen "casts like a dream. Seriously, this is one of the finest casting rods I've ever fished, at a price that's $500 less than a lot of its closest competition. I was - and am - blown away by how well this rod performs ... if you're looking for an outstanding fishing and casting experience, then the Hydrogen deserves your serious consideration."

REDINGTON ZERO
The ZERO is Redington's minimalist brother to its wildly successful BEHEMOTH. Like the BEHEMOTH, the ZERO is a die cast reel that is built using a spool and frame design that can't be machined — increasing strength and rigidity. But where the BEHEMOTH is aimed at taming big game, the ZERO and its click-drag system is aimed at being light and simple. According to Redington, it is the "ultimate in lightweight trout reels."

RIO FLY LINES
RIO makes more fly lines that anyone else in the business and is constantly pushing the boundaries in both technology and line design. From classic trout tapers to delicate presentation bonefish lines to specialty lines like the RIO Outbound and RIO Big Nasty lines, RIO makes a line for virtually every fishery and every tactic out there.

COSTA SUNGLASSES
There's a reason that Costa is the biggest name in sunglasses in the fishing world: no one else designs sunglasses for anglers first and foremost. Making sunglasses for fishermen is Costa's business, and it shows in their products.
We've named Costa's sunglasses 580G blue and green mirror lenses our Best Saltwater Sunglasses for 5 years running. We've awarded Costa's 580G copper lenses with Best Full Sun honors too. These are serious fishing tools for serious anglers.
Costa also repeatedly puts serious skin in the game for conservation and research efforts like its Kick Plastic campaign, Project Guyana, OCEARCH and, of course, the ongoing efforts surrounding the Everglades.
THE BREAKDOWN
Grand Prize: A 6-day trip to tour and fly fish the Everglades and Florida Keys, Sage X fly rod, Sage 6200 Series reel, RIO fly line, pair of Costa Sunglasses.
First Prize: Redington Hydrogen fly rod, Redington ZERO fly reel, RIO fly line, pair of Costa sunglasses.
Second Prize: Pair of Costa Sunglasses, RIO Products $100 gift card.
Third Prize: Pair of Costa Sunglasses, RIO Products $50 gift card.
As always, it doesn't get much simpler: send us your best fishing photos from this year. Share them with others via Facebook, Twitter and more. Hope to win.
Here are some guidelines/helpful tips on submitting a contest entry:
Anything fly fishing related goes. Photos of landscapes, gear, people, fish, etc. Don't limit yourself to grip and grin shots (seriously, please don't).
Submit your most creative shots. The judges are all seasoned fisherman and/or seasoned photographers. Think big.
DO NOT INCLUDE watermarks, borders, faux matting and frames, or other urges to bedazzle or mark up your photo.
You can enter up to 5 photos and swap them out throughout the year (if you ignore the limit and enter more than 5, we'll only look at your most recent 5).
If you win a prize, and possibly even if you don't, we are going to ask you to prove the image is yours. So, be prepared to. Don't steal or otherwise enter images that don't belong to you.
You need to be logged in to send us your contest photos. Clicking the ENTER NOW button below will prompt you to login if you're not already, and will present you with the option to register if you need to.
OFFICIAL TERMS AND CONDITIONS (FULL DETAILS)
NO PURCHASE NECESSARY TO ENTER OR WIN
ELIGIBILITY: The "2016 Hatch Magazine Fly Fishing Photo Contest" (Promotion) is open internationally to individuals age 18 or older. Do not participate in the Promotion if you are not 18 years of age at time of entry. Contest is void wherever prohibited by law.
TRAVEL PRIZE: The grand prize winner will receive a trip to The Everglades and Florida Keys. What's included: (1) flight to Miami or Fort Lauderdale or a $400 VISA gift card for use towards purchasing air travel to Florida if cost of travel from the grand prize winner's destination exceeds $400, all ground transportation once arriving in Cancun, lodging, meals and guiding are included. What's not included: any airfare or other travel expenses prior to arrival in Flordia (in excess of the $400 gift card), gratuities for guides and other staff and any other incidental expenses.
OTHER PRIZES: One (1) Sage X fly rod, one (1) Sage 6200 fly reel, one (1) Redington Hydrogen fly rod, one (1) Redington ZERO fly reel, two (2) RIO fly lines, one (1) RIO products $100 gift certificate, one (1) RIO products $50 gift certificate, (3) pairs of Costa Del Mar sunglasses.
HOW TO PLAY: Enter to win at https://www.hatchmag.com by following provided instructions to upload your favorite fishing photos. Each contestant may submit up to five (5) photos for inclusion in the contest.
PROMOTION PERIOD: From August 4, 2016 until December 1, 2016.
WINNER NOTIFICATIONS: Winning contestants will be posted on Hatch Magazine's web site. It is the responsibility of the contestants to monitor contest results and claim their prize via provided instructions. Prizes will be shipped via FedEx or USPS. Except where prohibited by law, winning constitutes permission to use winners' names, hometowns, likenesses, prize won and photographs for online posting, and/or any advertising and publicity without additional compensation. Winners must provide Hatch Magazine with their legal name, current mailing address, and photo upon request.
WINNER ELIGIBILITY: Winners may be asked to provide proof of ownership of images submitted for the contest. This may include, but is not limited to, RAW or other original files, full EXIF data, travel or other documentation, witness testimony or accompanying images.
WINNERS LIST: Winners will be posted within Hatch Magazine web site.
INVALID ENTRIES: Winners are only eligible to win one (1) prize via this Sweepstakes, duplicate winners within the same sweepstakes will be deemed invalid. Any entries deemed to be fraudulent by Hatch Magazine will be invalid. Employees, officers, editors, paid contributors (and their immediate family and household members (whether or not related) of Hatch Magazine, Inc. (the "Sponsor"), and its divisions, participating vendors, participating advertising and promotion agencies and affiliated entities not eligible to participate. In the event of sabotage, acts of God, terrorism or threats thereof, computer virus or other events or causes beyond the Sponsor's control, which corrupt the integrity, administration, security or proper operation of the Promotion, Sponsor reserves the right, in its sole discretion, to disqualify entrants and/or modify, cancel or suspend the Promotion.
RELEASE: By entering this promotion, participants agree, to the fullest extent permitted under applicable law, to release, discharge and hold harmless Hatch Magazine / Cignal Media LLC, their affiliates, their respective owners, and representatives from any and all damages, liabilities, costs and expenses which may arise out of participation in Promotion or out of the acceptance, use, or misuse of prizes. By submitting images for this promotion, you agree to release these images for use by Hatch Magazine / Cignal Media LLC for uses such as: current or future contest promotion, in Hatch Magazine newsletters, use on social media outlets such as (but not limited to) Facebook and Twitter, display anywhere on the Hatch Magazine web site. Image release does not provide Hatch Magazine / Cignal Media LLC the right to resell or relicense images entered in this contest. By participating, you agree to these Official Rules and to the decisions of the judges whose decisions shall be deemed final and binding. Sponsor reserves the right to substitute for any reason whatsoever a prize (or portion thereof) of comparable or greater value, at their sole discretion. Prize is awarded "as is" with no warranty or guarantee, either expressed or implied by the Sponsor. The Winners are responsible for the reporting and payment of all taxes (if any) as well as any other costs and expenses associated with acceptance and use of prize not specified herein as being awarded. Winner may be required to execute an affidavit of eligibility, liability release, tax acknowledgment form and, except where prohibited by law, a publicity release and return within five (5) business days of issuance of notification. Noncompliance within this time period or failure of potential winner to respond after three (3) notification attempts may result in disqualification. The Promotion Entities expressly disclaim any responsibility and entrants agree to indemnify and hold harmless Hatch Magazine / Cignal Media LLC from and against any and all claims, actions, demands and/or liability for injury, damage or loss whatsoever relating to or arising in connection with participation in this Promotion (regardless of the cause of such injury, damage or loss) and/or the delivery and/or subsequent use or misuse of any of the prizes awarded.