The Salmon River in New York State, which flows into Lake Ontario, is widely considered one of the finest salmon and steelhead fisheries in the east. On the Salmon River and other great lakes tributaries in New York, Pennsylvania and Michigan (amongst others), anglers are afforded shots at strong runs of powerful fish that they'd otherwise have to travel across the country to find. While the Salmon River is an eastern mecca for anglers seeking king salmon, coho salmon and steelhead, the traditional fly fisherman may find the brand of fly fishing most common on the Salmon River somewhat out of the ordinary.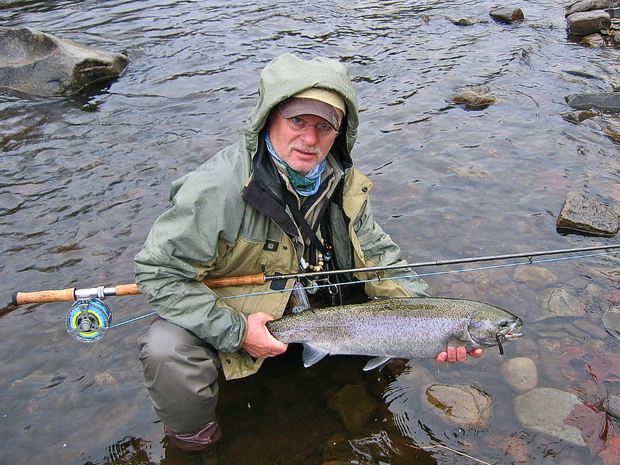 Now, that's not to say that there isn't a lot of fly fishing on the Salmon River. In fact, during the late summer and early autumn salmon runs, you'd be hard pressed to find a greater concentration of fly rods anywhere else in the world. However, the presence of fly rods doesn't guarantee anything about the manner in which they are used. For a myriad of reasons, the fly rod has become the weapon of choice for what has become affectionately known as "chuck-and-duck" fly fishing. This technique, while in-arguably effective, isn't familiar to your average fly fisherman, and many find it less than alluring. Count me amongst that many. Given the preponderance of this style of fly fishing in the great lakes region, finding a fly fishing guide who employs either more traditional or innovative new methods can be tricky. Finding one who employs these methods while also possessing an intimate knowledge of the river and its residents can be even trickier.
Enter Walt Geryk. Walt is a diamond in the rough that abounds in the Pulaski/Altmar region of New York. It's not that there aren't other excellent Salmon River fly fishing guides, it's just that there are so few that practice anything other than the aforementioned great lakes style of fly fishing. It bears re-stating that this method of fishing exists for a reason -- it works. If this is the style of fishing you're looking for, there are any number of quality guides with decades of experience on the Salmon River that can assist in your pursuit of the sublime. If it isn't, and you're looking for something different, Walt may just be your go-to guide.
Walt is a Hardy and Greys endorsed fly fishing guide with over 25 years experience fishing the waters of the Salmon River region in New York. Since 1985, Walt has been an advocate of traditional fly fishing and spey fishing tactics on these waters. Walt focuses intently on teaching and the amount of skill building that can occur in a day on the water spent with Walt is hard to overstate. His instruction addresses everything from casting basics to important topics such as fly profile, speed and tracking as it is presented to the fish.
Particularly when it comes to spey fishing and its tactics, Walt is an innovator in the Salmon River region. 5 years ago you could have walked the banks of the Salmon River for an entire day without seeing a single spey rod. While today spey rods are becoming increasingly common on the SR, and are not at all a rare sight anymore, Walt has been swinging flies on the Salmon for many years, and has refined his approaches to suit that dynamic fishery.
The important take home here is that if you're considering a guide in the Salmon River region, it will pay big dividends to understand your options, know what you want and do what you can to be sure your guide can deliver it. This is largely the case whenever you search for a guide for any destination, but it is even more important in the Salmon River region due to the unique mix of fishing styles that exist there. Don't roll the dice on your trip to an absolutely breathtaking fishery.
To learn more about Walt's and/or book time on the water with him, visit his web site.