Now head guide for Beaufort, South Carolina's Bay St. Outfitters, Tuck Scott was born and bred in South Carolina's lowcountry, having fished the region for most of his life. This amounts to almost 3 decades of experience, as Tuck puts it, fishing, shrimping, and "gigging" the waters of the lowcountry coast (feel free to do what I did, and just pretend you know what "gigging" is).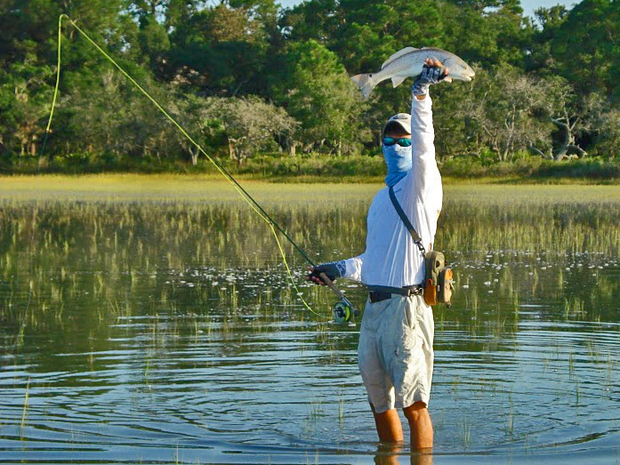 When people from the north, or presumably anywhere else but the American southeast, talk about the south, they're always talking about how "life is slower down there". My guess is that most people are just regurgitating that sentiment without having experienced it or even knowing what it means, a practice which is firmly poised to overtake baseball as America's favorite pastime. Once you've been there, however, you realize there's something to it. That "something" is the people, and Tuck's one of them, complete with the requisite southern drawl.
Obsessive fly fisherman are used to meeting obsessive fly guides. Especially if you do your research, you typically end up headed out with a guy that's as stoked as you are to be out there. And it shows. The typical scenario is two guys meeting up at 5am somewhere, with one spewing tons of fly fishing garbage while the other slops it up. Then they switch. There's a feeling that everybody loaded up on way too much caffeine, but it's adrenaline.
Within minutes of meeting Tuck on the Russ Point Boat landing, I find myself wondering "am I boring this guy"? Standing on the side of the road in near gale-force winds, with me worked up about how fishing is shot for the day, Tuck's calm, reserved, and surprisingly quiet given the conditions. We talk about plans for the next day, what conditions might be like, and despite having my fishing day wiped out by the W-I-N-D, I'm pretty relaxed. Everything is unusually low-key. I feel like I'm supposed to be pissed, but I'm not. Tomorrow's not necessarily looking any better, or the next day, but that's somehow okay. Tuck laid out the possibilities, and even with the prospects looking grim, his unflappable demeanor is evidently contagious. Good thing. Instead of heading back to the place we're staying, returning to my wife and kids as a pissy grouch, everything's cool.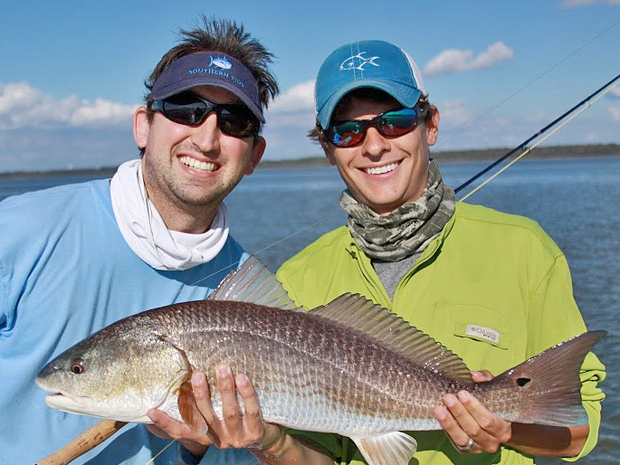 As it turns out, we did get to fish. Only one day instead of two (you can read about it here), and of course it turns out Tuck was just as stoked as I was to be out there. Maybe more. There's just no hooting and hollering required to show it. And that contagious unflappability comes in real handy out on the water. Casting to pods of mudding reds for the first time in my life, I was preposterously calmer than I would normally be in such a situation. Tuck's demeanor defines the trip. Finding fish, casting to them, even playing them is all surprisingly chill. The excitement is all still there, but the anxiousness is gone.
Good riddance.
Tuck Scott is an Orvis endorsed guide for saltwater species such as Redfish and Cobia out of Beaufort, South Carolina. Tuck has 7 years guiding experience and 25+ years experience as a fly fisherman. For more information on Tuck, or to inquire about booking time on the water with him, visit Tuck at his blog or at South Carolina's Bay St. Outfitters.