Culebra, Puerto Rico and Cape May, New Jersey might not be on your radar as premier fishing destinations. Chris Goldmark would tell you otherwise. Chris has been a guide in those two locations for over 20 years now and has built up a reputation as one of the premier flats guides in Puerto Rico. For those of you not familiar with Culebra, it's a small Island off the east coast of Puerto Rico that holds some of the biggest bonefish in the Caribbean. You can find Chris their October through April, the rest of the year he's up on the mainland in South Jersey.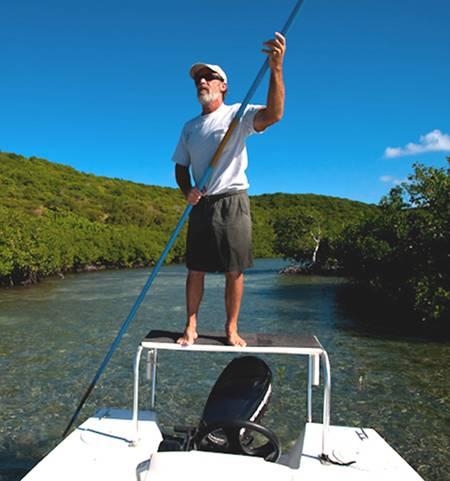 Chris is a true waterman, having grown up in Cape May and being in or around the salt his whole life. He's the current IGFA world record holder for largest fluke ever taken on the fly (8.2 lbs.) a fish he caught a few years back in Cape May when he found some free time from running two marinas and guiding clients for stripers on the back bay.
We here at Hatch Magazine have been lucky enough to fish with Chris multiple times over the past ten years and can attest to his perseverance, knowledge and general great attitude on the water. He's always one to stop and instruct instead of barking orders at you when you've fouled up or don't bring you're a-game. Next time you find yourself in South Jersey or even further south in Puerto Rico look him up and you'll meet on of the most laid back and informative guides out there.