Tom Larimer, owner and operator of Larimer Outfitters in Hood River, Oregon, guides clients year-round on the rivers of the Columbia Gorge in search of steelhead and trout. As it happens, Tom is one of those guides that, after a day of fishing, makes it painfully easy to reflect on what a shitty fisherman you are. While you're standing in the river like a dope -- horking out sloppy casts to waiting steelhead, focused solely on whether or not that tug is coming -- Tom's standing there thinking about all the things that up your chances of feeling that tug: fly depth and profile, sun angle, water temperature, your rig, you name it. This guy plays the game at a level that most of us are either not capable of or to lazy to bother with. 20 years of experience chasing steelhead in the Great Lakes, Oregon, British Columbia and Alaska combined with obsessive persistence and innovative thinking has its advantages.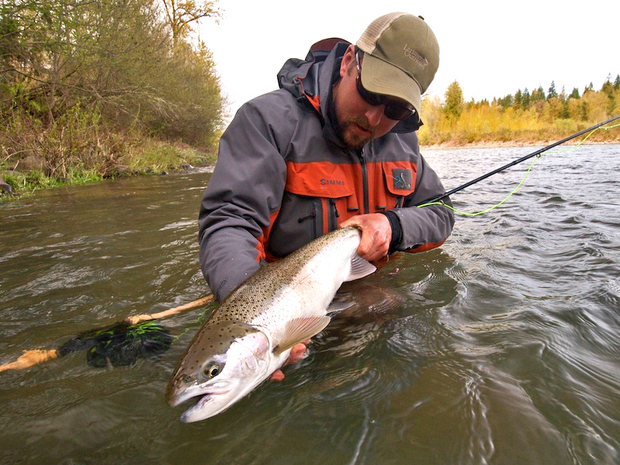 If you're wondering why you'd want to go fishing with a guy that reminds you how weak your skills are, stop. For the truly avid fisherman, remembering what a shitty fisherman you are isn't a bad thing. Why would it be? It's not as if you're going to quit, and you're certainly not going to lose interest in becoming a better fisherman. It's just more incentive to improve, learn more, absorb. Despite being an excellent fisherman, Tom Larimer is also an excellent teacher. Widely recognized in the Northwest and across North America as one of the finest spey casting instructors out there, Tom is constantly teaching when on the water. And, if you're tuned in, you're constantly learning.
Tom is a pro-staff member of the R.L. Winston Rod Company, Simms and Airflo Fly Lines. Tom's insight and designs drive some of the finest new steelheading gear on the market, including a variety of Airflo fly lines. He is also a an avid fly-tier and fly designer for the Solitude Fly Company.
Larimer Outfitters offers guided jet-boat trips on the Deschutes River in Oregon for steelhead and trout and guided steelhead trips on the Klickitat, Sandy and Clackamas Rivers. For more information, visit the Larimer Outfitters web site.