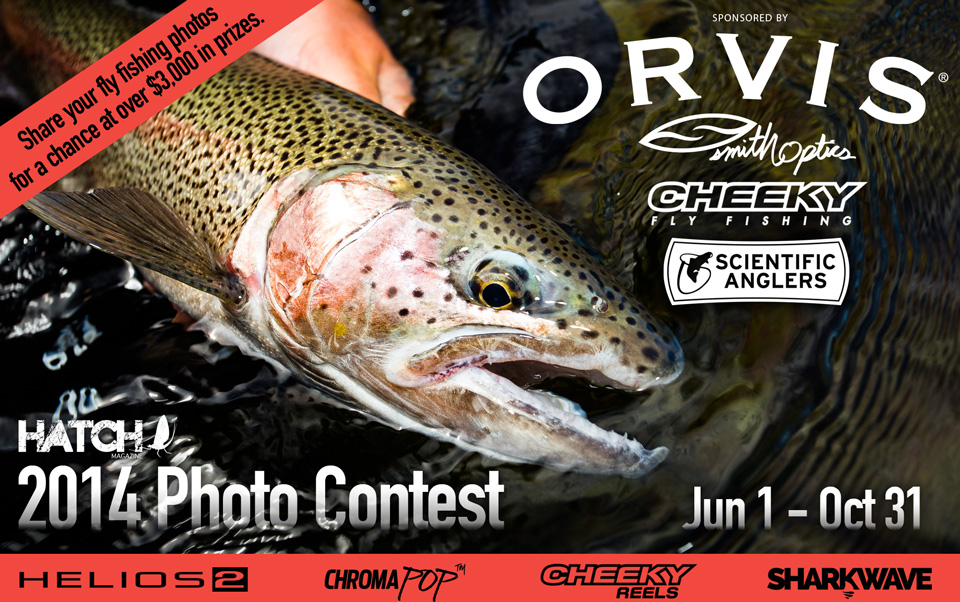 Our annual photo contest, which each year brings together some of the finest fly fishing photography found anywhere, is back. This year is our biggest and best contest yet, packed with many of the most popular new products on the market right now.
As always, it doesn't get much simpler: send us your best fishing photos from this year. Share them with others via Facebook, Twitter and more. Hope to win.
Here are some guidelines/helpful tips on submitting a contest entry:
Anything fly fishing related goes. Photos of landscapes, gear, people, fish, etc. Don't limit yourself to grip and grin shots (seriously, please don't).
Submit your most creative shots. The judges are all seasoned fisherman and/or seasoned photographers. Think big.
Avoid borders, faux matting and frames, or other urges to bedazzle your photo.
You can enter up to 5 photos (that's up from 3 in previous years) and swap them out throughout the year (if you ignore the limit and enter more than 5, we'll only look at your most recent 5).
You need to be logged in to send us your contest photos. You can do this by registering with us directly, or you can use your Facebook or Twitter login. Clicking the ENTER NOW button above will prompt you to login if you're not already, and will present you with options.
Grand Prize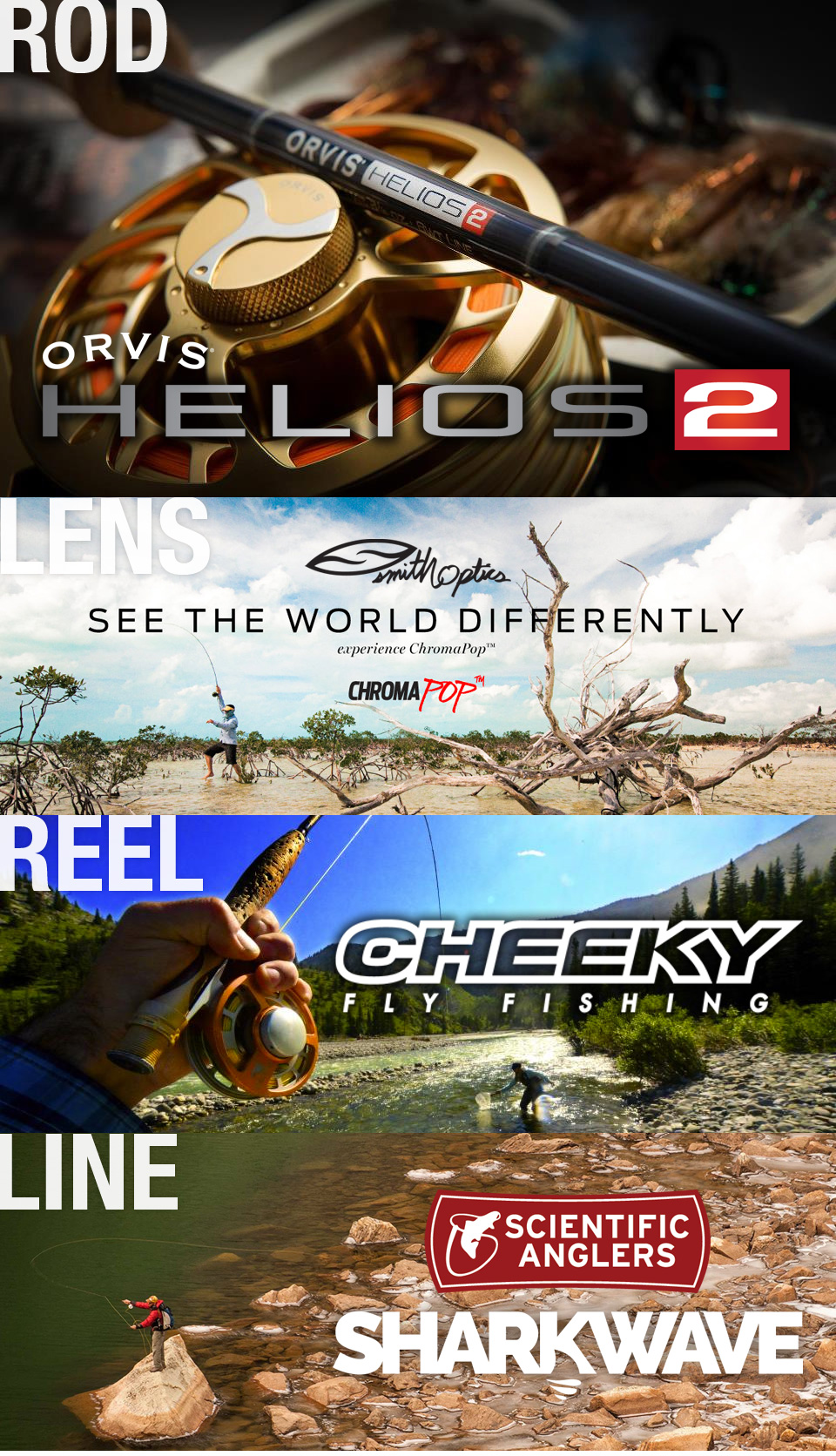 The grand prize winner will be fully outfitted with a prize pack that includes an Orvis Helios 2 Fly Rod, a Cheeky Fly Fishing reel, a pair of Smith Optics ChromaPop sunglasses and a Scientific Anglers Sharkwave fly line.

The Orvis Helios 2 is the winner of six different industry awards and has received countless accolades from some of the most respected fishermen and women in the industry. It is also widely recognized as a true evolution of the well-respected original Helios, offering notable improvements in many areas.
Of the Helios 2, Orvis says "[it] is a featherlight war club that defies the laws of physics and has the backbone of an I-beam. Lighter in hand and 20% stronger than any rod we've ever developed, it transitions energy directly from your brain to the fly and casts with the precision of a laser pointer. Made by hand in our Vermont rod shop, it's a fly rod built by anglers who fish their way home from work, anglers with sunglasses-shaped tan lines, anglers who tie blood knots in their sleep."
Select your Helios 2 and pair it with the reel, sunglasses and fly line of your choice to build a serious outfit. Looking to revamp your big-water trout arsenal? Go ahead. Build a bonefish outfit? Sure. You won it. You build it.
Retail Value: $1,450 - $1,715.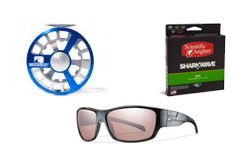 1st Prize
The first prize winner will have to do without the Helios 2, but that's it.
The first prize winner have their choice of reel from Cheeky Fly Fishing. After tarpon? Go for Cheeky's Thrash 475. Looking for a new steelhead reel? Then run with the Mojo 425. Whatever your quarry, have your pick from Cheeky's lineup.
Cheeky is about designing and building reels that provide the ultimate in performance through simple, intelligent engineering ... and doing it with style.
The first place finisher will also select their choice of Smith Optics' new ChromaPop sunglasses and Scientific Anglers' new triple-textured SharkWave fly lines.
Retail Value: $649 - $829.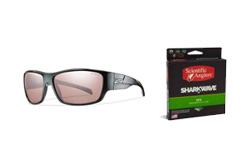 2nd Prize
The second place finisher will select their choice of frame to pair with Smith Optics' new ChromaPop lenses which are rapidly winning over fans across the globe.
ChromaPop is the world's most scientifically advanced polarized lens, with new film-free polarization technology, engineered to optimize color and increase visual clarity. ChromaPop eliminates color confusion for the brain, ultimately recognizing true color, faster, regardless of lens tint.
The second place winner will also select their choice of Scientific Anglers' new triple-textured SharkWave fly lines.
Retail Value: $309 - $369.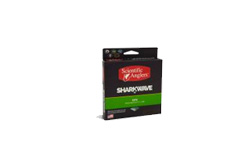 3rd Prize
Third prize is a your choice of any one of Scientific Angler's new SharkWave fly lines.
the world's first Triple-Textured and Triple-Colored fly line. Featuring Sharkskin texture on the tip section, Mastery Textured divots for the belly and running line, a smooth Tactile Reference Point at where the head meets the running line, SA•ID line identification, AST dry slick technology, Improved Dry Tip technology, and Streamlined Loops.
It's fishing, friction free.
Retail Value: $100.
OFFICIAL TERMS AND CONDITIONS (FULL DETAILS)
NO PURCHASE NECESSARY TO ENTER OR WIN
ELIGIBILITY: The "2014 Hatch Magazine Fly Fishing Photo Contest" (Promotion) is open internationally to individuals age 18 or older. Do not participate in the Promotion if you are not 18 years of age at time of entry. Contest is void wherever prohibited by law.
PRIZES: One (1) Orvis Helios 2 fly rod, three (3) pairs of Smith Optics' ChromaPop sunglasses, two (2) Cheeky Fly Fishing reels, four (4) Scientific Anglers SharkWave fly fishing lines.
HOW TO PLAY: Enter to win at https://www.hatchmag.com by following provided instructions to upload your favorite fishing photos of 2014. Each contestant may submit up to three (5) photos for inclusion in the contest.
PROMOTION PERIOD: From June 1, 2014 until Oct 31, 2014.
WINNER NOTIFICATIONS: Winning contestants will be posted on Hatch Magazine's web site. It is the responsibility of the contestants to monitor contest results and claim their prize via provided instructions. Prizes will be shipped via FedEx or USPS. Except where prohibited by law, winning constitutes permission to use winners' names, hometowns, likenesses, prize won and photographs for online posting, and/or any advertising and publicity without additional compensation. Winners must provide Hatch Magazine with their legal name, current mailing address, and photo upon request.
WINNERS LIST: Winners will be posted within Hatch Magazine web site.
PRIZE VALUE / TERMS OF SERVICE OF PRIZE: Orvis Helios 2 fly rods retail value ranges from $749 to $885, Smith Optics ChromaPop sunglasses retail value ranges from $209 to $269, Cheeky Fly Fishing reels range in price from $340 to $460, Scientific Anglers Sharkwave fly lines retail value is $100.
INVALID ENTRIES: Winners are only eligible to win one (1) prize per via this Sweepstakes, duplicate winners within the same sweepstakes will be deemed invalid. Any entries deemed to be fraudulent by Hatch Magazine will be invalid. Employees, officers, editors (and their immediate family and household members (whether or not related) of Hatch Magazine, Inc. (the "Sponsor"), and its divisions, participating vendors, participating advertising and promotion agencies and affiliated entities not eligible to participate. In the event of sabotage, acts of God, terrorism or threats thereof, computer virus or other events or causes beyond the Sponsor's control, which corrupt the integrity, administration, security or proper operation of the Promotion, Sponsor reserves the right, in its sole discretion, to disqualify entrants and/or modify, cancel or suspend the Promotion.
RELEASE: By entering this promotion, participants agree, to the fullest extent permitted under applicable law, to release, discharge and hold harmless Hatch Magazine / Cignal Media LLC, their affiliates, their respective owners, and representatives from any and all damages, liabilities, costs and expenses which may arise out of participation in Promotion or out of the acceptance, use, or misuse of prizes. By submitting images for this promotion, you agree to release these images for use by Hatch Magazine / Cignal Media LLC for uses such as: current or future contest promotion, newsletters, use on social media outlets such as (but not limited to) Facebook and Twitter, display anywhere on the Hatch Magazine or related web site(s). By participating, you agree to these Official Rules and to the decisions of the judges whose decisions shall be deemed final and binding. Sponsor reserves the right to substitute for any reason whatsoever a prize (or portion thereof) of comparable or greater value, at their sole discretion. Prize is awarded "as is" with no warranty or guarantee, either expressed or implied by the Sponsor. The Winners are responsible for the reporting and payment of all taxes (if any) as well as any other costs and expenses associated with acceptance and use of prize not specified herein as being awarded. Winner may be required to execute an affidavit of eligibility, liability release, tax acknowledgment form and, except where prohibited by law, a publicity release and return within five (5) business days of issuance of notification. Noncompliance within this time period or failure of potential winner to respond after three (3) notification attempts may result in disqualification. The Promotion Entities expressly disclaim any responsibility and entrants agree to indemnify and hold harmless Hatch Magazine / Cignal Media LLC from and against any and all claims, actions, demands and/or liability for injury, damage or loss whatsoever relating to or arising in connection with participation in this Promotion (regardless of the cause of such injury, damage or loss) and/or the delivery and/or subsequent use or misuse of any of the prizes awarded.