James Plante is a fly fishing guide and instructor for the Housatonic River Outfitters, Inc. in Cornwall Bridge, Connecticut. He guides and instructs on the Housatonic and Farmington Rivers and is an avid saltwater fly fisherman. Jim describes fly fishing as "both is his passion and his love," a sentiment perhaps most appreciated by his wife and two children. He sleeps, drinks, breathes, and eats fly fishing. Whether he is on the water or off, his love and passion for the sport shine through.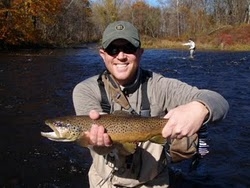 Jim loves to share his knowledge with others and gets just as excited to see someone else hook up on a fish as when he does so himself (trust us, we've been there, it can be a little embarassing). Whether you're looking to improve your skills delicately presenting dry flies to rising trout, want to know more about how to rig up and toss bulky double-nymph rigs, or learn how to swing big streamers to hungry trout -- time on the water with Jim is time well spent.
Not only is Jim an avid fly fisherman, guide, and instructor, he is also an avid fly tier. He spends countless hours at the vise, either tying already established patterns or developing new patterns of his own to fool our river dwelling friends. In 2011, Jim became a signature fly tier for Rainy's Flies.
Jim loves to travel and fish different parts of the U.S. and the world. His fly fishing obsession has taken him to destinations such as Montana, Colorado, Alaska, Wyoming, Ohio, Pennsylvania, New York, New Jersey, the Bahamas, and all throughout New England.
Jim is also a member of Ross Reel's Pro Staff.
For more information or to inquire about booking time on the water with Jim, visit him at his blog, The Salty Riffle.