I'm in Browns Canyon National Monument. It's Colorado's corner of newly protected public land. The Arkansas River is its lifeline. I'm fishing that lifeline from a raft rowed by Colorado permit pioneer Bill Dvorak.
The river is running too low in my opinion, 300 cubic feet per second (CFS), but my opinion doesn't count here. This isn't my home water. It's Dvorak's.
"Obviously I make my living running the Arkansas River so I have a personal interest," says Bill Dvorak, Dvorak Rafting and Kayaking Expeditions owner. "When you run down this river every day, you want to protect it and make sure people enjoy it forever."
Dvorak is one of the many players who gambled for federal resource protection and won in 2015. Browns Canyon National Monument is 21,586 acres of red rock and whitewater. Users of every interest rely on Browns. Managing for such varied use won't be easy, but it is now guaranteed by President Obama's federal proclamation.
"We, as a multiple use agency, have a tough job. We have to toe the line between resource extraction and conservation of resources," says Jayson Barangan, Bureau of Land Management public affairs specialist. He's shooting video in the raft next to me. "This is an opportunity to really showcase to the American people that we are committed to conservation. Conservation is a very important part of our mandate."

It's important to the communities clustered around Browns Canyon too. Protecting Browns Canyon took more than 40 years of pandering and patience. Dvorak mastered both and during that time, the Arkansas morphed from Superfund site to Gold Medal status. Greg Policky contributed to that transformation.
"You create the right habitat and get the metals out and the fish will certainly make it," says Greg Policky, Colorado Parks and Wildlife aquatic biologist. "The river is so much more healthy today as far as overall health and bugs are part of that."
Bugs, and trout, live where Policky works. He's restoring river upstream of monument boundaries on the Hayden Flats stretch of the Arkansas. His efforts are water wonders with fish and flow appeal. Orderly new gravel bars create curves in the current and cut banks give way to grassy knolls. Mine tailings move out and more fish swim in, but something is still missing. Bugs. Big bugs.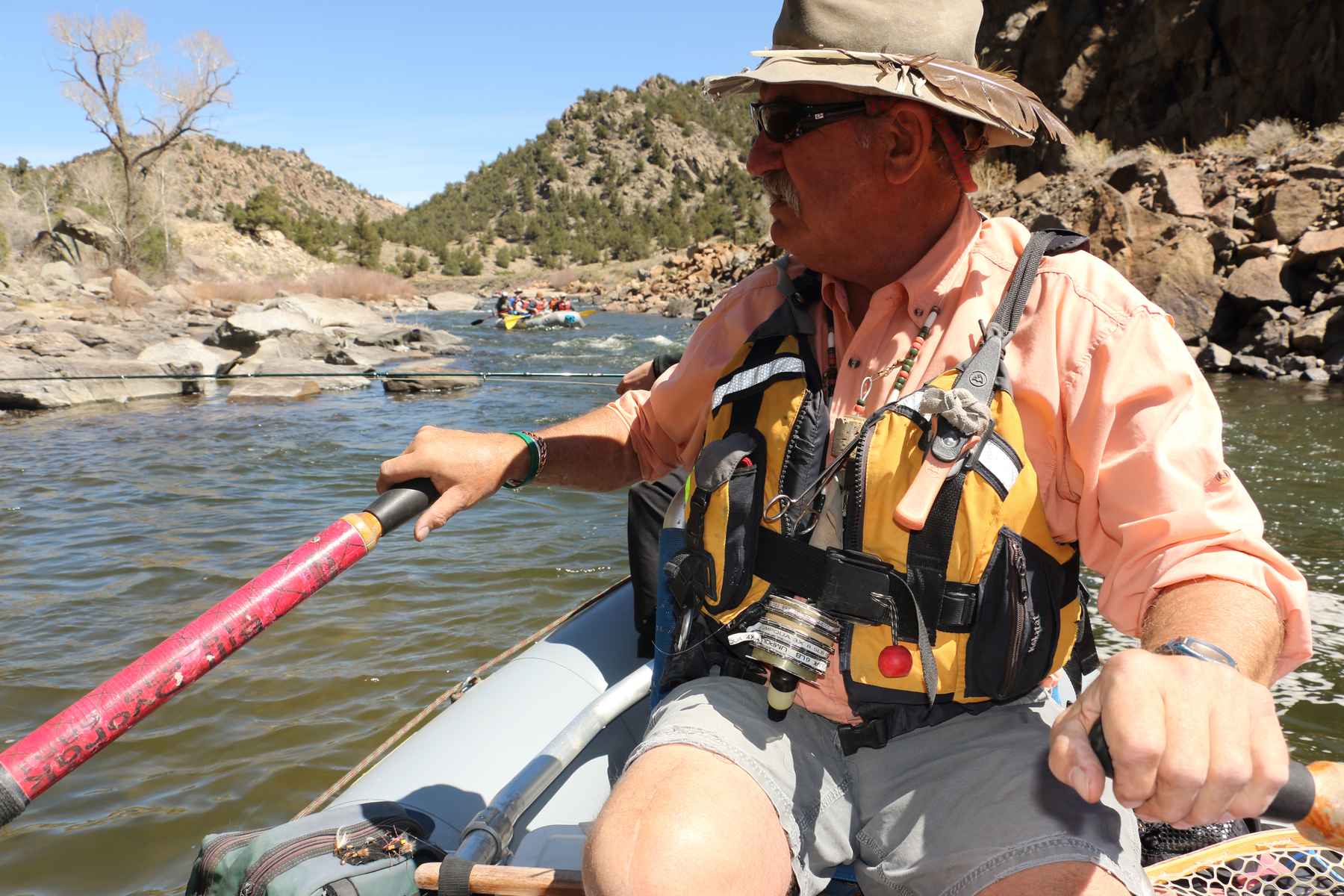 "They were here once, but eliminated by heavy metal, just like fish," says Policky.
The 'they' he's referring to are salmon flies. The big bugs big fish will hammer during the short-lived summer hatch. Anglers crave catching that kind of action so Policky transplanted 135,000 salmon flies from the Colorado River to the Arkansas from 2012 to 2014. It's the only salmon fly move of such size that he knows of in the nation. He's watching the water now to see if any of the big bugs brought eggs.
"I think a lot of people are watching," he says. "I have a personal stake here, but if they don't make it, they don't make it. It's not for lack of trying. "
Like trout, salmon flies need clean water. Probably even cleaner. The Arkansas runs through mine country. Toxic soil and contaminated water is no secret. A mining settlement worth $20.5 million went into cleaning up 17 miles of river including Hayden Flats. Now that stretch has more fish and more brown trout over 14 inches than any other section of the Arkansas. The big fish are back. The big bugs aren't. There's no sign of them.

"It bugs me a lot," Policky says. "On one hand, you think they didn't make it, but on the other hand, they're on their own and we can't draw a conclusion. We still hope to find them. Maybe they are here."
Stones, a common nickname for salmon flies, are hatching on my home waters in Idaho. I know I'll catch big fish on big stones when I'm on the Henry's Fork of the Snake River next week. I also know crowds of anglers will be on banks and in boats adding to recreation's economic value in my home state. But I'm not home yet. I'm on the Arkansas and I wish I could cast stones here too. Instead, I cast caddis and bring three brown trout to Dvorak's raft. There are definitely browns in Browns Canyon National Monument. It's a fine place to fish and raft, or hunt, hike and ride, if that's more your mood. It's where monument status took countless hatches over time to achieve and may take an even more monumental move to get its big bugs back.